BY MEGHAN ROOS
A leader of Black Lives Matter's New York chapter on Wednesday said the movement was prepared to "burn down this system" if the U.S. does not work with participants to enact real change.
"If this country doesn't give us what we want, then we will burn down this system and replace it," said Hawk Newsome, chairman of Black Lives Matter of Greater New York, during an interview with Fox News. "I could be speaking figuratively, I could be speaking literally. It's a matter of interpretation."
Newsome went on to clarify that while "I don't condone nor do I condemn rioting," the measurable change that has occurred in recent weeks began in the wake of property destruction caused by rioters.
"This country is built upon violence," Newsome said, pointing to the American Revolution and modern American diplomacy as examples. "We go in and we blow up countries and we replace their leaders with leaders who we like. So for any American to accuse us of being violent, it's extremely hypocritical."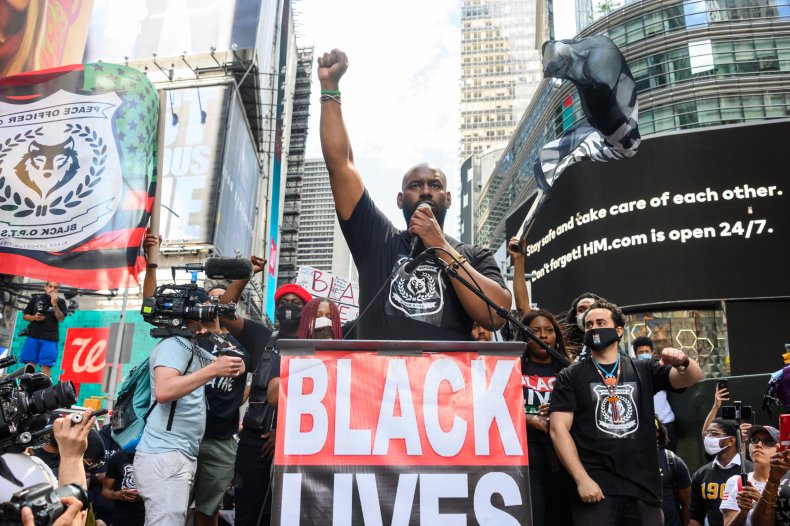 Newsome drew a comparison between support for the Second Amendment with discussions of Black Americans taking up arms to defend themselves. While white Americans were frequently described as observing their right to bear arms when bringing weapons into public spaces—as occurred earlier this year, when demonstrators were seen holding assault rifles inside Michigan's State Capitol while protesting the stay-at-home order imposed due to the coronavirus pandemic—the same would not be true in the case of Black Americans arming themselves, Newsome said.
"We're talking about saving lives," he said. "Nobody's talking about ambushing police officers. We're talking about protecting lives. There's nothing more American than that."
Since the release of a video showing George Floyd, a 46-year-old Black man who died while in police custody in Minneapolis on May 25, protesters have rallied across the U.S. and around the world. Though many of the protests demanding police reform and an end to violence against Black Americans were peaceful, there have also been several instances in which the protests devolved into property destruction, looting and violent interactions between protesters and law enforcement officials. As word of more Black Americans who died at the hands of police officers or white Americans before and after Floyd's death has increased, Black Lives Matter organizers like Newsome have pushed for real, measurable change.
While protest movements responding to the violent deaths of Black Americans in previous years lost momentum before such change occurred, this moment seems to be different. Several city leaders across the country have begun reviewing the training and policies in place at their local police departments, and a handful of officers accused of using excessive or unnecessary force that resulted in the death of a Black individual have been fired.
From Newsome's perspective, that kind of progress is at odds with the due process claims government and law enforcement leaders made previously as explanations for why quick change was difficult.
"The moment people start destroying property, now cops can be fired automatically. What is this country rewarding? What behavior is it listening to? Obviously not marching," Newsome said.
In an Instagram caption he later posted alongside a screenshot of the Fox News article that resulted from his interview, Newsome singled out the media organization for focusing on his statement about burning down the U.S. system and drove home the final message he voiced on air.
"I just want Black liberation and Black sovereignty—by any means necessary," he said.
Original article was published here.
Facebook Comments